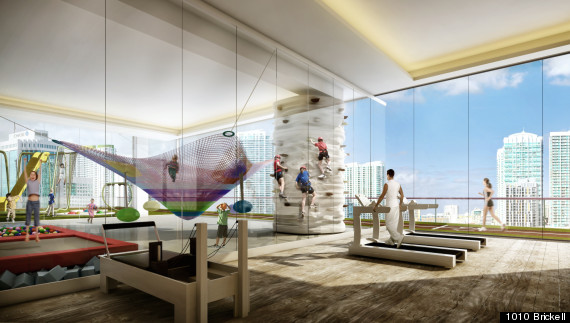 Given its groundbreaking effort to redefine urban luxury living, it's perhaps little surprise that 1010 Brickell has once again come under media spotlight, this time being featured in the widely-read Huffington Post, which highlighted the condo's unique approach to promoting wellness among residents.
As cranes dot the skyline again and developers ramp up amenities in competition – Car elevators! Aleros! Pools that make us feel faint! – one planned new condo building is focusing on even more fitness, perhaps the most Miami feature ever.

While gyms and rooftop pools are de rigueur these days, the Sieger Suarez-designed 1010 Brickell will feature not only an impact-absorbing outdoor running track (!) and squash, volleyball, soccer, and basketball courts, but a two-story glass rec center on the 11th and 12th floors with a children's gym, gaming arcade and social room. According to the folks behind the project, the transparent design will ensure children can be seen by their parents from anywhere in the gym — and come with a parent/child wristband system for additional security.

Oh, and there's also two bowling lanes, an outdoor water park, virtual golf, mini golf, co-ed hammam, plunge pools, steam rooms, yoga and massage areas, too, so basically residents will never ever ever need to leave the building except for the occasional Publix sub run.
Indeed, no other condo is offering such an innovative and holistic approach to health and fitness. This unique characteristic reflects 1010 Brickell's pioneering emphasis on accommodating the needs and luxuries modern living. Along with its high-end residences, five-star services, and excellent location in Miami's commercial heart, residents are guaranteed an unmatched quality of life.
To take advantage of this exclusive opportunity for fine living that has all the media buzzing, contact 1010 Brickell Miami expert Sonya Olson at 646-785-1027.